Meet the Dentist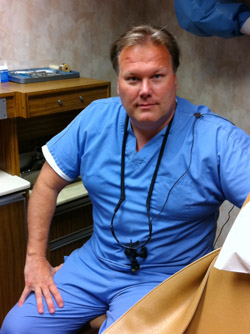 Bryan B. Amos, DMD
Dr. Bryan Amos is a unique kind of dentist. He takes a gentle approach, easing any concerns you might have by providing valuable patient education. He listens so he can best understand your particular needs. Then he strives to provide the highest standard of personalized dental care using his skilled training in the latest advances in dental technology.
As a graduate of University of Pittsburgh in biochemistry, he went on to extend his education, receiving his doctorate from University of Pittsburgh Dental School in Pittsburgh, Pennsylvania. He's a member of the American Dental Association, Academy of General Dentistry, and Pennsylvania's Dental Board.
Dr. Amos has been married to his wife Jodi since 1990. His hobbies and Interests include; traveling, scuba diving, basketball, tennis, and golf. He enjoys living and working in Pittsburgh, and is proud to part of the community of Mt. Lebanon. He looks forward to exceeding your expectations and bringing out the full beauty of your smile.
---
310 Beverly Rd • Pittsburgh, PA 15216
ph: (412) 563-6677 • fax: (412) 563-2299